Forum for Hebcal.com - Free Jewish holiday calendars, Hebrew date converters and Shabbat times

We need someone who can integrate the HebCal Shabbat candle lighting times API with the ability for visitors to input their local location into our wordpress website? We've tried to follow the documentation but need help. Willing to pay. Email npool32@aol.com

Hi - I need a candle lighting and shabbat/chag end time chart for the upcoming year of 2022-2023. How can i create one for Los Angeles?
Thanks
Something that looks like this picture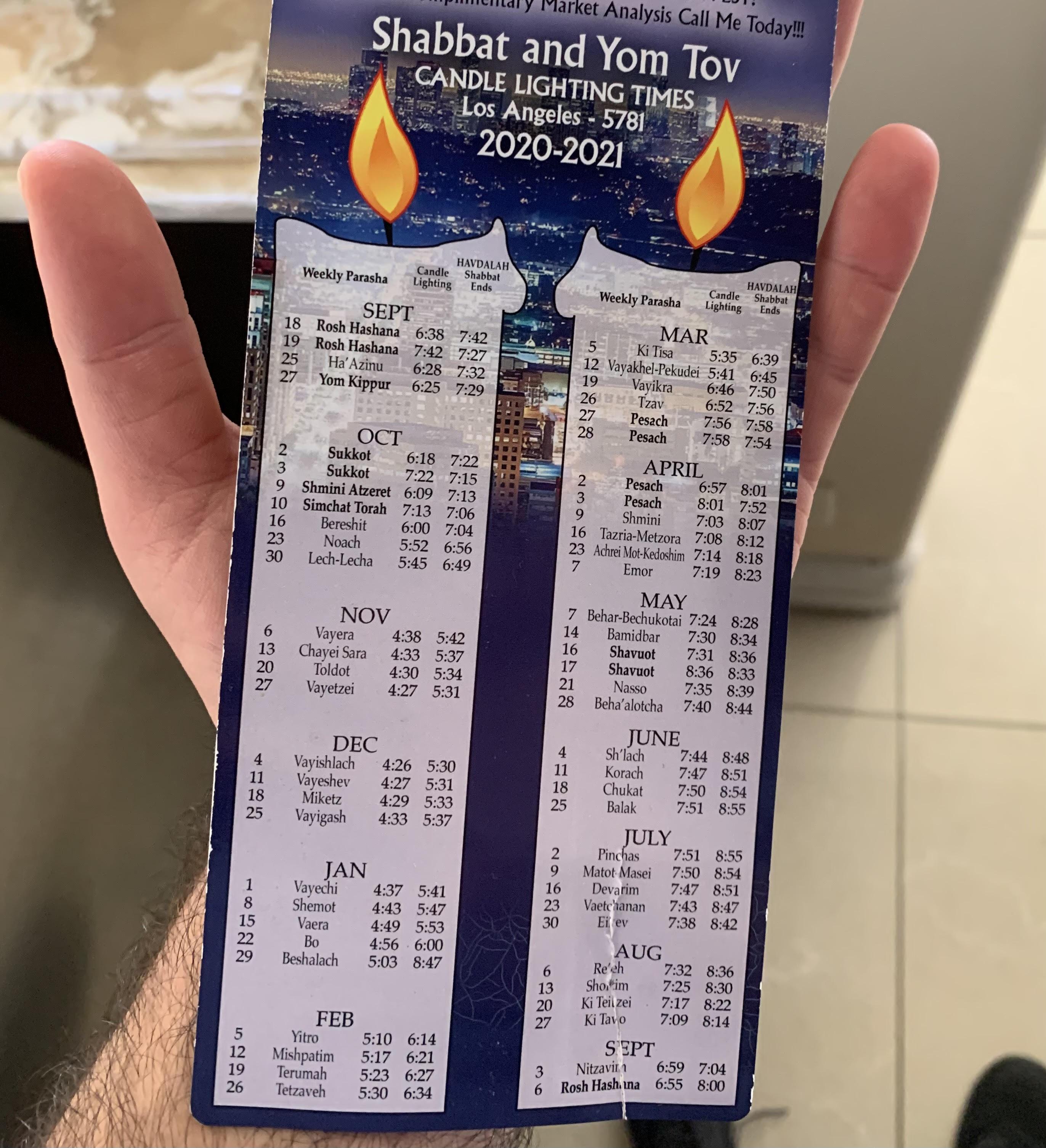 Hi, thanks for contacting Hebcal.
Yes! Check out this page:
Candle-lighting Times Year at a Glance
Fill out the form below to get Shabbat and holiday candle lighting times and Parashat haShavuah (weekly Torah Portion) for the entire year on a single page. You can print it out and post it on your refrigerator.
https://www.hebcal.com/home/shabbat/fridge
Shabbat shalom!

Hi,
I love the feature you added in the Calendar with the emoji's for the holidays.
Here some suggestions, I was missing:
Purim: Performing Arts & Scroll
Pessach: Rice Cracker & Wine Glass
Sukkot: Lemon & Herb
(Names from emojipedia.org)
Rgrds

The header says it all. I need to run a script to download and write the result to a textfile.


Please help. Don't know how to add a new yahrzeit to my list of yahrzeits on HebCal. using Mac OS 12.1 (Monterey).
Thanks!

If you return to the https://www.hebcal.com/yahrzeit page from the same web browser you used earlier, you should now see a page that lists your previously created calendars: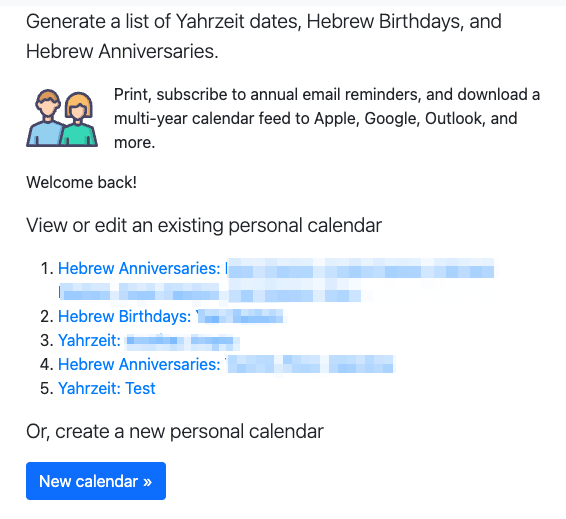 Then, click on an existing personal calendar link.
Near the bottom of the page, you'll see a green button that says "Add another name"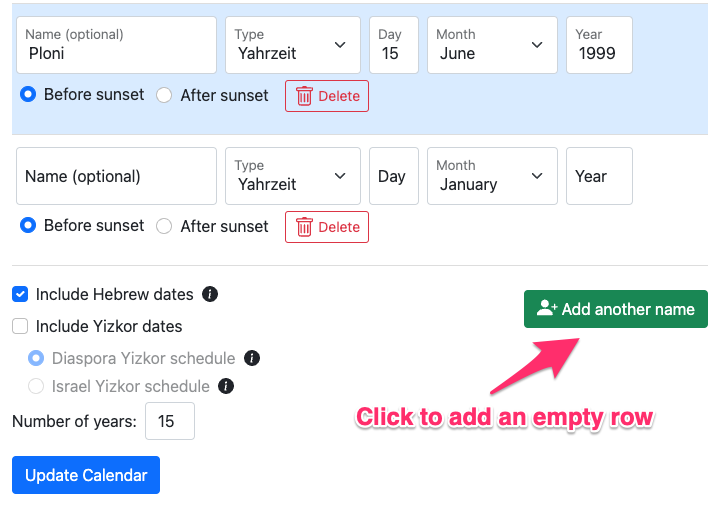 Fill out the new row and click the blue "Update Calendar" button at the bottom of the page.

Hi
Would you consider adding an option to add a Mishnah Yomi calendar?
Thanx

Firstly, thank you very much for the wonderful Hebrew Calendar. Ofter many searchs i found yours and its the best!! Thanks!
Now, if i can suggest, if its possible to shorten the Hebrew date. Instead of - כז חשוון התשפב, to write just - כז חשוון for example...
Maybe it can be in the setting of the calendar and anyone who want to tick that option will can.
This is the only negative i can find in your wonderful work. Thank you again and hope my suggestion is doable 🙂

Hi, thanks for using Hebcal and thanks for posting this suggestion!
We've changed our calendars so we only include the year in the Hebrew date for the 1st of Tishrei (e.g. Rosh Hashana).

First of all, you created a wonderful and useful website.
Seems recently that you start holiday dates with night before. Very confusing. People (including myself) are used to seeing the start date as the full secular day; we already know it starts the night before. I understand that it may be confusing for the non-regularly-observant.
.
Example for 21-22: Rosh Hashanah Sep 6‑8 M‑W. At first sight seems that it is 3 days long! Please revert to how it was before. Thank you.

Hi Adam, thanks for using Hebcal and thanks for the feedback.
Our mission at Hebcal.com is to increase awareness of Jewish holidays and to help Jews to be observant of the mitzvot.
Some of the users of Hebcal.com are observant Jews and some users of Hebcal are gentiles who want to be aware of when Jewish holidays are so they can be respectful of their Jewish friends, colleagues and classmates.

Many of the users who visit our Jewish Holidays summary page need to know exactly when a holiday begins. That it why each holiday summary page includes the following text at the top of the page:
Except for minor fasts, holidays begin at sundown on the date specified in the tables below. For example, if the dates for Rosh Hashana are listed as Sep 6-Sep 8, then the holiday begins at sundown on Sep 6 and ends at nightfall on Sep 8.

We have learned over many years that for observant Jews, adding the "Erev" before the holiday is the best way to clarify when a holiday begins in an evening, and indeed our calendar includes Erev for all major holidays and even for some minor ones like Purim. Observant Jews also will know that Rosh Hashana is only 2 days long and not three.
Oftentimes visualizing the dates on a calendar grid can help to clarify further, especially in combination with the Erev. See below for an example:


Hi,
First of all, thank you for this great API/data!
Second, I saw that there is Shavuot I (17.05.2021) and Shavuot II (18.05.2021) in the API as I'm a jew and living in Israel I don't know anything about these two, Shavuot is a two days holiday, there is only Shavuot Eve (Erev Shavuot 16.05.2021) and Shavuot (17.05.2021).
here is a picture from google to confirm it:


Hi, thanks for using Hebcal.
For Israel this is the URL we publish which shows only one day for Shavuot
https://www.hebcal.com/holidays/shavuot?i=on

Which says: Shavuot (Festival of Weeks) for Hebrew Year 5782 begins in 🇮🇱 at sundown on Saturday, 4 June 2022 and ends at nightfall on Sunday, 5 June 2022.
And for Diaspora (chutz l'aretz) we publish this page
https://www.hebcal.com/holidays/shavuot

Which says: Shavuot (Festival of Weeks) for Hebrew Year 5782 begins in the Diaspora at sundown on Saturday, 4 June 2022 and ends at nightfall on Monday, 6 June 2022.


I hope this extra location information helps.